Location of the exhibition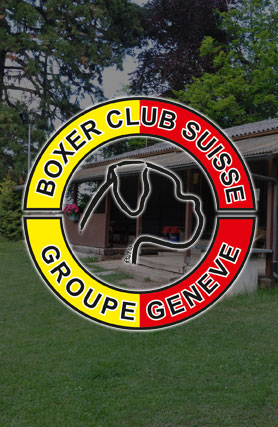 Swiss Boxer Club – Geneva Group
Plan-les-Ouates – Geneva
Located in the city of Plan-les-Ouates, our 7000m2 of land is our training place for obedience, fun education, and agility.
We look forward to seeing you on our specially landscaped grounds for this 25th Swiss Boxer Dog Show.
Go to the exhibition venue
By clicking on the map, you will be redirected to Google maps to find the best route to come to the Swiss Boxer Dog Show.

Swiss Boxer Club – Geneva Group
Route d'Annecy 118
1256 Plan-les-Ouates
Position GPS:
46°09'28.6″N
6°08'19.6″E
(46.157942, 6.138783)
Swiss Boxer Club Geneva Group on video
Here is an overview in drone of the place of the exhibition.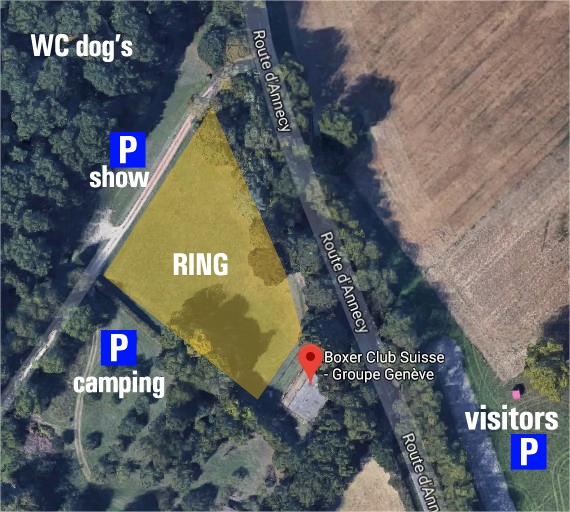 Rings
3 rings will be installed. 1 per judge.
Parking show
The parking show is only for exhibitors by presenting their registration form to the parking manager at the entrance.
Parking Camping
Parking reserved for exhibitors with motorhome. Only for those who have made the request in time with a valid reservation by the organizers.
Parking Visitors
Parking reserved for visitors of the exhibition. From the parking lot a path will be marked to reach the entrance of the Boxer Club. The crossing of the road is done only on the indication of the person in charge of circulation.
Clubhouse of Boxer Club
Registration, refreshment and administration will be directly at the Pavilion
WC Dog's
Milly Wood is available to walk his dog and do the hygienic ballad. Stool bags will be available as well as a trash can at the entrance of the wood side exhibition.
Toilets
Men's and women's toilets will be available to the pavilion.
Water
A water point will be available at the Clubhouse
Food
Hot and sandwich meals will be available during the exhibition.
Drink
A refreshment bar will be available during the exhibition.
Geneva Tourism
Discover Geneva and its many facets, good deals and offers.
City of Geneva
The website of the City of Geneva
Plan-les-Ouates
The website of the municipality of Plan-les-Ouates